Happy New Year!
We started the new year by honoring our customers who've truly made a difference in the RevOps world with The Drivers Awards. Next year, this can be you! And if you love Openprise, spread the word and get rewarded with our Referral Program. In this issue, we'll also be talking about how to rid yourself of tech debt from the past and start gearing up for a year of targeted account-based marketing.
I hope you enjoy this issue of Openprise Opt-In. Any questions or comments, feel free to reach me at
CX@openprisetech.com
.
Sandy Lii
Head of Community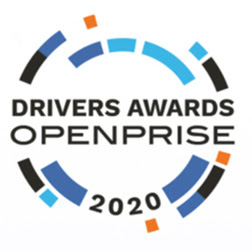 The Drivers Awards
The annual Data-Driven RevOps Team of the Year Awards (The "Drivers") celebrate the amazing achievements of RevOps teams, and showcase the innovation and accomplishments of these people and companies taking a data-driven approach to RevOps using Openprise. We'd like to congratulate this year's Drivers Award winners: the teams from Equinix, Freshworks, Instructure, Ivanti, and Okta! →
Check out their achievements
Referral Program
Love Openprise and know someone who would also love Openprise? Share the love and get paid for it! Just refer Openprise to your friends. If they take a meeting with Openprise, we'll send you a Visa gift card for $200. If they ultimately become a customer in 2021, we'll also send you a $2,000 Visa gift card. →
Click to find out more
App Factory - Customer Forum and Office Hours
Have great ideas on how to use App Factory and want to share? Struggling with your CRM and want some advice from your fellow Openprise users and Product team? Join our new Openprise Customer Forum and Slack away! →
Join the Openprise Customer Forum
We also have office hours where you can provide real-time feedback and ask questions.
Openprise App Factory Beta
Last fall, we officially opened the Openprise App Factory beta to all customers, with three templates (Search, Chart, and Form) and hundreds of possibilities. You can use these templates to share customer information securely with your end-users and enable well-governed inputs and changes.
The Form apps, in particular, enable controlled account creation for salespeople, deal registration from third-party vendors, lead loading for demand generation vendors, or sales issue logging for account executives.
If you've got more ways to use any of the apps, we'd love to hear about it! →
Watch the training videos
and share your use cases on the
Customer Forum
Openprise@Openprise Class #5 - ABM
With so many prospects, how do you strategically target your best prospects? This is where ABM methodologies come in, and we'd like to share how it's done at Openprise. Join our Chief Revenue Officer, Tim Lambert, and VP of Marketing, Allen Pogorzelski, as they share the way we tackle ABM at Openprise, and:
Identify our best prospects; firmographic data's just the start.
Accurately grade and score contacts to keep our focus on the best ones.
Route leads based on accounts, not leads and contacts.
Keep marketing and sales not just aligned, but continuously improving processes.
Watch the webcast
on-demand or check out
past Openprise@Openprise classes
.
White paper: How to Get Your Data Ready for Account-Based Marketing
Now that you've seen how Openprise does ABM, here are a few things to watch out for to get your data ready for ABM:
Build a solid foundation for your ABM initiative, including target account lists and new account identification.
Ensure you have the high-quality data you need to enable ABM activities and analysis, like lead-to-account matching and scoring.
Use segmentation to enable personalization.
→
Read on to learn more